Hi. My name is Chizu. I live in St.Louis Illinois!
I got married military husband last year and moved to St.Louis, Illinois this April!
It is my first time living overseas, so I am pretty excited and concerned at the same time.
That is because I have several friends who live overseas and many of them had a hard time with nothing to do everyday or nobody to ask for help…
I used to work everyday and love to be social.
I already know if I stay home everyday doing nothing and no friends, it drives me crazy.
It is very important to be social!!
I started searching for some information as soon as I got to America.
I am very lucky because I found a free English class (ESL) for a second language near my house!!
I took an English test and they placed me in the class.
It is a very interesting class because there are many foreigners who come from Vietnam , China , Korea , Mexico , Thailand , Jordan etc…
 ( I would love to write about this class next time!)
I met many people and made many friends since I started taking this class.
I realized that taking the class makes my days better and happier!!
So, I am going to take more classes to see them than to study recently.
It is important to get out of the house and try your best everyday.
This mind will make your new environment more interesting and fun!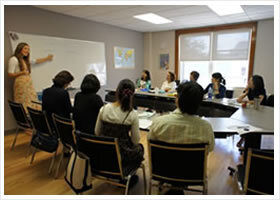 If you are interested in our jobs, please check this☆彡
◎  https://mama-sun.com/  ◎

 The registration form is here.
♪ttps://mama-sun.com/jp/relocation/♪
Please click here to support us, too!
☆子育てブログ☆にほんブログ村☆
♡ワーキングマザー育児♡にほんブログ村♡