Hello all! I'm MT from Germany.
Today, I would like to share one of the beautiful cities Tubingen, Germany for those who love to travel the world or visiting new places.
Looking back my memories…
Tubingen is one of the colorful ancient cities located in central Baden-Wurttemberg. It is also called as a small university town because there are so many students living there. As it is very difficult moment for every travel lover to visit a new place nowadays due to Covid-19. So, let me share some of my past beautiful memories with you.
These are some pictures right in front of the Tubingen station. I found very unique architecture that was painted with art by students. It seems that there are some messages against racism written in German on the wall. As Germany is very sensitive about racism since World War Ⅱ, I feel this as a part of Germany now.
This is one of the best photo shooting spots with beautiful river and colorful flowers beside. The river is called "Neckar river" and it is one of the touristic spots for pedal boats. There were also some tourists who were enjoying the boat ride on this day and it seemed very joyful.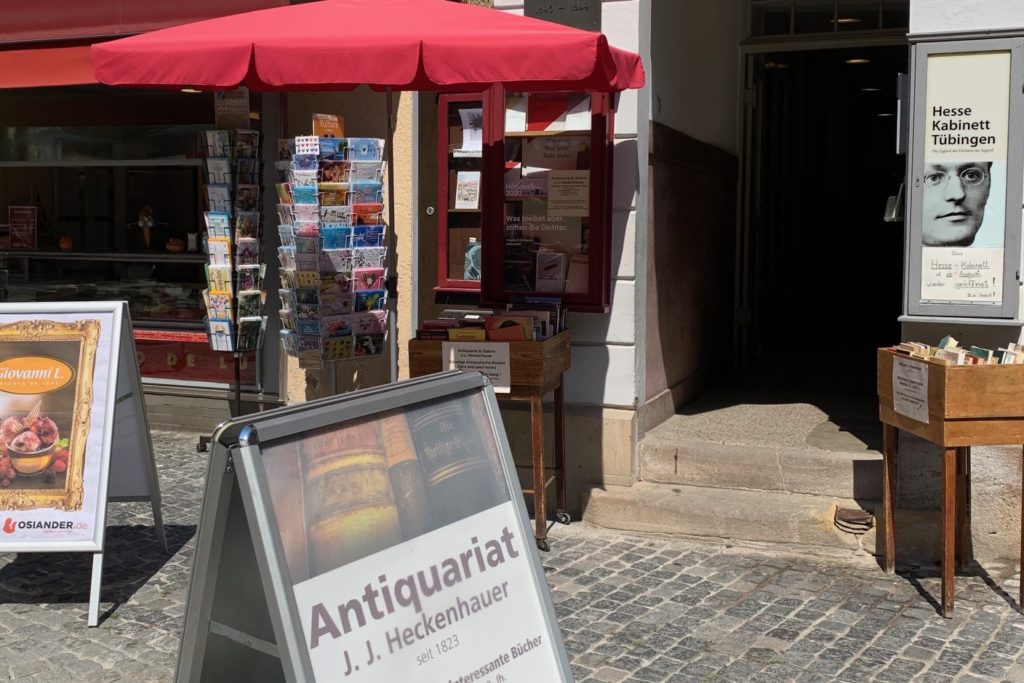 This is one of the oldest book stores in Germany which is called J.J. Heckenhauer created since 1823. Inside of the book store was smaller than I expected, but filled with a lot of old books and had an antique atmosphere. For those of you who love history and books will enjoy this store.
This is a Town hall of Tubingen that is known as Republic of Scholars which is located on the market square in the center of the city. I really liked this antique designed building that has over 500 years of history. This square was really nice place to visit with nice buildings and market and cafes around.
When you get tired, there are a lot of cafes and resistant to rest. I even found a Japanese rice ball restaurant, but what I recommend the most is the ice cream shop! When the weather is hot, ice cream is the best item to carry with and it is tasty!
How was it?
You can also visit a nice church in the center of the city. Tubingen is not that big city. Therefore, it is possible to walk around the whole city in a day. As it is very nice atmosphere with many shopping stores and cafes, I would like to visit there again. Next time, I would like to discover more deep inside of this city. If you have chance to  visit near by please do not forget to visit Tubingen♡


≪Please check our workers blog!≫
  Please click here to support us, too!
  ☆ 海外生活ブログ ☆