Bonne Année / A Happy New Year from France.
The year 2020 has begun.
I suppose that you must have spent a wonderful winter vacation.
I also had a special moment with my friends on New Year's day.
As you may know, New Year's Day is the largest seasonal event in Japan.
The family gathers together and eats a special meal called "Osechi-Ryori".
It consists of a number of traditional dishes, each of them have meanings,
the health, prosperity, longevity and happiness of the year which arrives.
These dishes can also be kept for several days after cooked,
and once we prepared it by the end of the previous year,
we are freed from cooking during the first three days of the year.
However, here in France, families gather for Christmas,
and we spent with friends in New Year's Day.
Of course, what we eat is totally different!
It was wonderful to meet friends and toast with champagne,
but I could not deny that I missed Japanese style New Year somewhere in my heart.
So I was very glad that one of my Japanese friends proposed to celebrate
New Year this time in Japanese style!
We decided in advance who would bring what dishes or ingredients.
There is an Asian supermarket next to our town,
but it can not always provide what we need, the ingredients of such a special dishes especially.
Fortunately, one of our husbands had a business trip to Japan in December,
so we could ask him to bring back something which was not available here.
Or others have offered the ingredients they have brought or received from Japan.
We all gathered at one of the friends' house on New Year's eve and cooked and put the prepared dishes into a tiered food boxes.
Thanks to the cooperation of five families, we could prepare
Zouni (soup with sticky-rice cake called mochi), Kuromame (black beans),
Grilled shrimps, Kobu-maki (kelp rolls), Kurikinton (mashed sweet chestnuts),
Date-maki (sweet omlet), Tadukuri (candied dried sardines),
Kohaku Kamaboko (fish cake), Kohaku-Namasu (pickled carrot and white radish),
Kikka-Kabu (pickled radish cut to look like chrysanthemum),
Buri (Adult yellow tail), Chikuzen-ni (simmered chicken and rood vegetables)
and Mochi with kinako (roasted soy bean powder) or anko (sweet paste of Azuki beans).
We were proudly saying to each other that even in Japan,
we do not cook so much by ourselves nowadays as it is also possible to purchase prepared dishes there. Luckily we had some sake as well, so we enjoyed the meal with it very much!!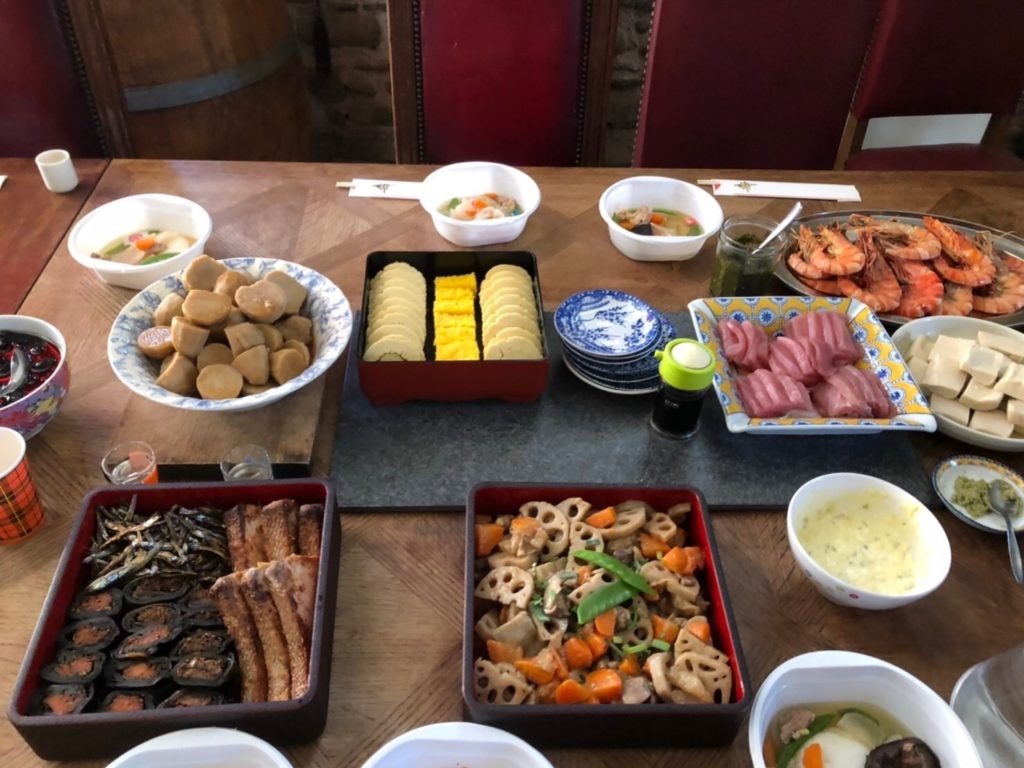 While adults enjoyed our meals, children also enjoyed playing games such as traditional Japanese games often played on New Year's Day.
I appreciated a lot to have been able to spend such a nice time
with good friends far away from our hometown!!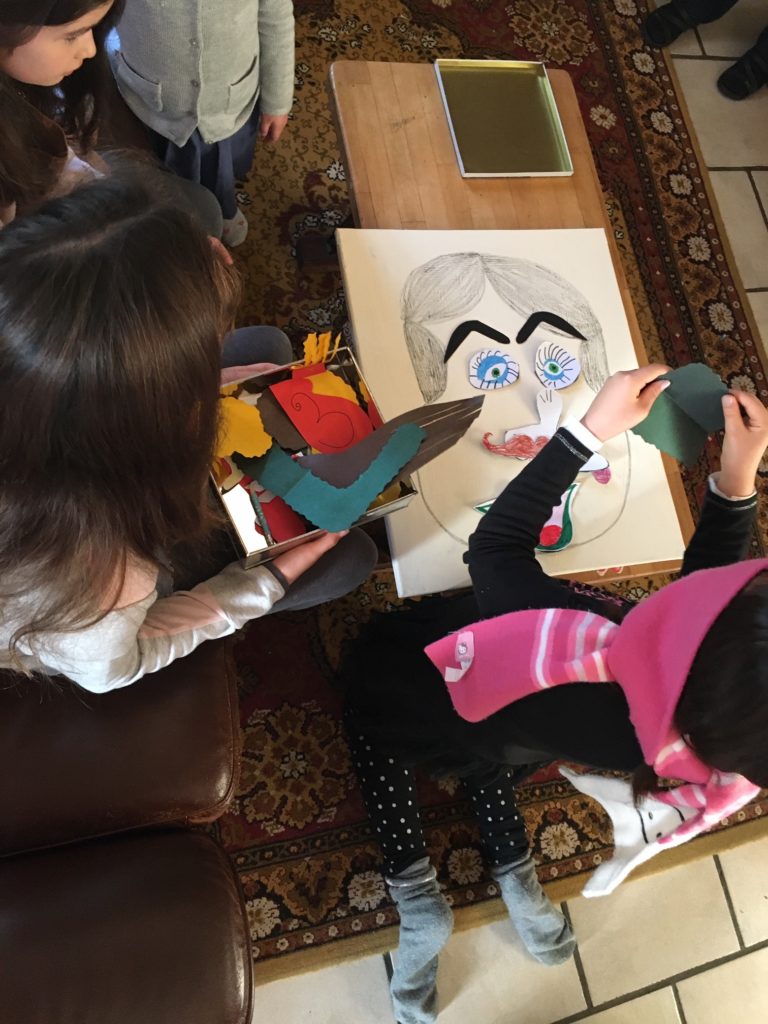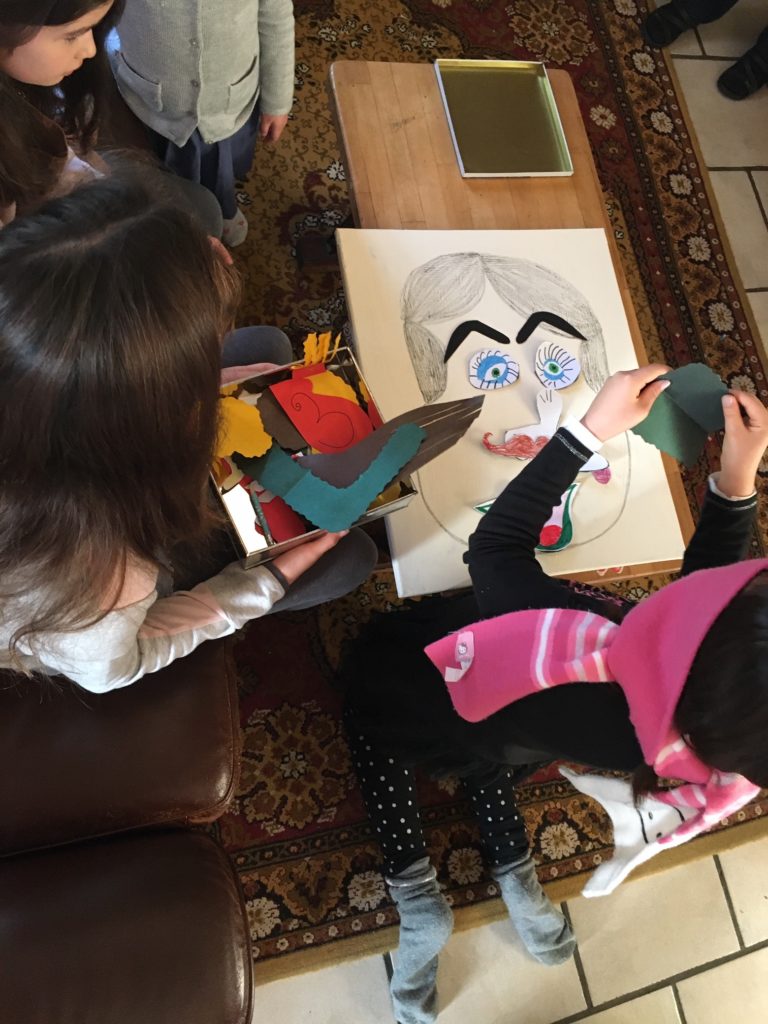 If you are interested in our jobs, please check this☆彡
◎  https://mama-sun.com/  ◎

The registration form is here.
♪ttps://mama-sun.com/jp/relocation/♪
You can get the E-mail newsletter!
https://mama-sun.com/jp/melma/

Please click here to support us, too!
☆ 海外生活ブログ ☆