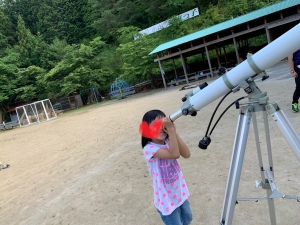 Hello! I am a working mother living in Hyogo.
My pen name is: fannymama ?
I have been working for Mamasan&Company about 3 years, mostly after coming back home from office work at accounting office. I believe I can improve various type of skills by trying several work at different places.
Last weekend, I joined outdoor activities at mountain in Hyogo with my 2 daughters. ?
As I am not good at driving a car and never tried preparing camp alone, I chose the package program staying at elementary school closed, which has kitchen and bathroom and room with Tatami-mat.
6 families joined it, and 3 local staff and some host members were stayed with us and helped us a lot.
On the first day, we walked to the field on the mountain to dig potatoes, pick eggplants and cucumbers, and after that we enjoyed cooking them and having BBQ. All stuffs were so fresh and delicious! Wonderful meal to eat with nice friendly people.
On the second day, we went for a walk in the mountain to find living things such as insects and animals. Just emerged dragonflies, big green frogs, newts, moles, crabs holdings her eggs, flock of fireflies and etc….
Not only kids but we adults also got excited to find them, which were not seen where we live now. We had nice local teachers who taught us about living things, watching stars, and how to cook pizza outside, who had lived in the village.
Such a wonderful encounter made our first outdoor activities successful and memorable enough! That is why our next plan for outdoor activities during summer vacation has fixed already…
I can keep working through weekdays though its not easy, because I have such nice plans with my daughters!
We have time difference, but it is possible to work in your own time in your country!
If you are interested in our jobs, please check this☆彡
◎ https://mama-sun.com/  ◎
The registration form is here.
♪ttps://mama-sun.com/jp/relocation/♪
 Please click here to support us, too!
☆子育てブログ☆にほんブログ村☆