Hello again from San Antonio, Texas. This is Ai 🙂
I will talk about another part of Japanese culture today, the Kimono, which is traditional Japanese clothing.
In fact, my father is a kimono designer and made a Furisode (see *1) for my coming of age ceremony (also known as Seijinshiki) and another one for my birthday.
Despite the fact that I am a daughter of a kimono designer and grew up close to Japanese culture, I cannot properly don a kimono on my own. It is a little embarrassing.
Although my husband always encouraged me to take a lesson for how to wear kimono, I did not have an opportunity until I went back to Japan last year.
While I was in Japan, I was finally able to take a kimono dressing class, and actually, my husband and my father set it up for me.
During the lesson, a teacher focused on how to wear kimono easily and comfortably.
She said, "if you cannot wear kimono painlessly, you won't want to try it again."
She taught me some tips of how to tie Koshi-himo (waist strap) firmly without feeling too tight.
As she said, my first challenge of wearing kimono was easier than what I thought.
My husband also helped me to tie an obi, a belt for a kimono.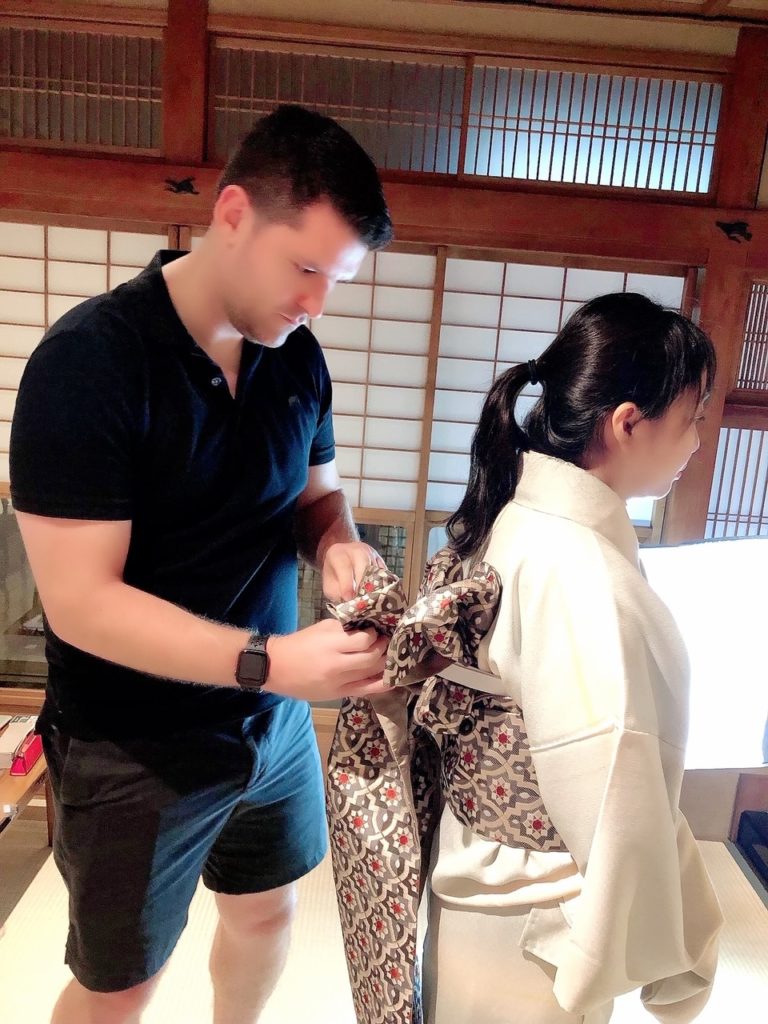 After some trial and error attempts, I was able to wear kimono on my own.
It was a great experience, and I appreciate my husband, father, and teacher for making it happen. I decided to keep practicing so that I will not forget.
Finally, there are several types of kimono, and here are some examples with explanations:
Furisode (*1)
Kimono for young women.
Typically, unmarried women wear this type, and it is colorful and gorgeous.
The most distinctive characteristic of Furisode is that it has long sleeves.
Tomesode
The most formal kimono for married women. It does not have long sleeves.
Houmongi
Both unmarried and married women wear this type of kimono.
It is less formal than Furisode and Tomesode, but it is appropriate for most formal events.
If you are interested in our jobs, please check this☆彡
◎  https://mama-sun.com/  ◎

The registration form is here.
♪ttps://mama-sun.com/jp/relocation/♪
You can get the E-mail newsletter!
https://mama-sun.com/jp/melma/

Please click here to support us, too!
☆ 海外生活ブログ ☆