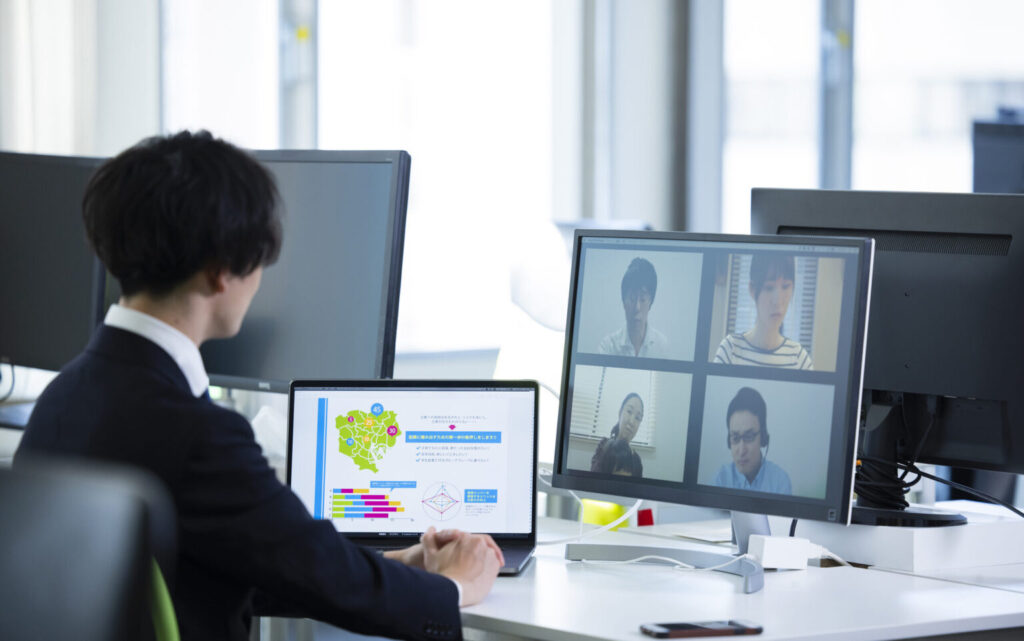 With the need for coexistence of society and the COVID-19, emergency remote work seems to be coming to an end. Yet many companies continue to maintain the remote work. Due to repeated COVID-19 pandemic restrictions and economic instability, various changes have been made in employees' work perception. These changes should be analyzed by businesses to foresee the future work style.
It is now vital for job seekers to be able to choose their work style, in-office or remote work. Here are the benefits of remote work for both businesses and job seekers.
Remote work after COVID-19.What are employee thoughts?
Since COVID-19, the choice of remote work became widely available. It is a company's choice whether to continue allowing the telework, however employees' work perception has changed drastically as they experienced a flexible work environment.
Change in perception of remote work after COVID-19
According to Recruit survey, during pandemic, 71.1% of employees in Tokyo experienced remote work, 64% in Osaka, 63.8% in Kanagawa and 38.5% in the other prefectures. Although there is a gap between urban and rural, the pandemic did accelerated the transition to telecommuting.
Remote work offers all kinds of benefits including reduced commuting times, flexible working hours, workload control and increased productivity. Remote workers can use their time more efficiently with less interruptions and less meetings.
Remote workers now know the benefits of teleworking through their experiences and realize that there are surprisingly many work that can be done remotely. Even after lifting Covid-19restrictions, 66.1% of survey respondents who can continue to work remotely say they're happy to work at home.
Challenges of working remotely
Even with all the advantages, certain remote work disadvantages do exist. A lack of communication can lead to misunderstandings and reduced work efficiency. Working remotely also could cause mental health issues. Some companies like Tesla, has declared to end to remote working due to distrust in productivity. Manufacturers are not suitable for remote working style, but the response to this news shows that many companies are skeptical about remote work.
The impact of remote working on recruitment
However, job seekers are now expecting to have a new option of working remotely. New graduates are also ready for it as they are used to do online classes at school. Here we take a look at the trend of remote work system at businesses and how job searching has changed.
The rise of remote work in business
Remote work is no longer necessary as many of the Covid-19 restrictions have been lifted. Although many workers were being forced into the remote work environment at the beginning, it provided a great opportunity to prepare the new system for the future. The government survey found that the number of companies adopting remote work has increased to 32.2% in September, 2021 from 10.3% before the pandemic. This clearly shows that more companies are adopting work-from-home policies.
Job seeker's new priority
The pandemic has changed what job seekers would expect from their employers. These are the three main things job seekers look more for in a job: higher salary 47.4% (15.0% up), working remotely 21.9% (14.4% up) and having a second job 18.3% (10.8%up).Due to the future uncertainty, job seekers are now searching for stability and flexibility that provides a work-life balance. Employers will need to meet these demands in order to hire people through human resource sharing and work sharing.
New Graduates into remote work
About 60% of new graduates who spent most of their school years in pandemic conditions are seeking an option of remote working. However, rather than complete remote work, hybrid work style is a more popular option. The hybrid work style provides employees choose their location based on their priorities for the day. If they have an important meeting or a training session, they can choose to come to the office. When there is pandemic lockdown or transportation disruption, they can stay at home to work remotely.
Benefits of remote working for securing employment
The benefits of remote work are not limited to workers. For businesses, there are significant benefits in terms of securing employees and having a less turnover rates.
Keep and maintain low employee turnover rate
It's not always guaranteed that employees who have been trained at the company's cost will work until they reach retirement age. They will leave their jobs when they're in situations like marriage, childbirth, looking after parents, your own health and/or partner's job transfer. Remote working could be a solutions for any company to keep the highly skilled employees to stay. It is desirable to have trained staff members even with less working hours than training a new employee.
Improve operational efficiency
As remote work continues, many tasks can now be done online. Adopting online payroll and time/attendance management tools successfully reduce back-office duties. Remote working also cuts back unnecessary meetings and materials preparations and increases productivity.
Business Continuity Plan (BCP) and natural disasters
With the spread of COVID-19, we once again realized that it is important to have a BCP in place. In order to prepare for any potential threats today including natural disasters, it is a must to have an alternate work site. Companies should keep operating even when there is a lockdown or disruption of transportation as long as the power and internet connection are safe. Even if some areas become unavailable, you can still work from other locations.
New era of flexible work
While business leaders have voiced concerns over remote workers productivity, many workers are seeking flexible work styles. Regardless of whether remote work is right or wrong, it is necessary for companies to set up a remote work environment to meet employee needs. Building and maintaining a remote work environment is crucial for any businesses when an emergency situation comes, and is also to manage the workforce for the future.